Why get involved?
Do you ever look back on your younger sporting days, remembering the jolt of excitement that came with scoring a goal, and wish you could re-live those golden moments? Or perhaps you've never been very sporty, but you've often watched others experience the camaraderie of being part of a team and felt a little envious? Or maybe you're recovering from an accident or illness and have been encouraged to exercise more, but just don't feel very motivated and have no idea how to get started?
Well we've got some good news - it's never too late to get active!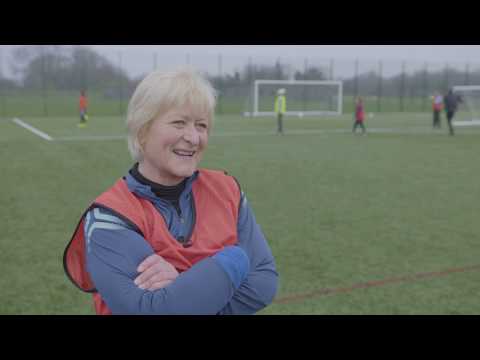 Why Play?
Yes, you've got a few more years behind you now. Yes, you've got a few more aches and pains to commiserate about. But that doesn't have to stop you enjoying the physical, mental and social boost walking sports can bring.
Hear from people who love playing walking sports.
Staying Active
Staying active as you get older can help you live a happier and healthier life, as exercise is proven to do all kinds of good things for your body and mind – from decreasing cholesterol and preventing osteoporosis to reducing stress and helping with the onset of dementia. In fact, there are remarkable walking sports players living with dementia who find they benefit from the exercise.
Walking sports especially are a fun way to keep your energy up, make new friends, and look after your health. And after a session, it will be the best tasting slice of cake and a cuppa with friends that you'll have all week!
Getting involved in the fun isn't limited to playing on the pitch. If you can whip up a mean Victoria sponge or fancy blowing the whistle from the sidelines, why not become a volunteer? That way, you can enjoy the social life without working up a sweat playing sport. There truly is something for everyone.



Taking the first step
Interested, but still not quite sure how to get started? Here's some practical tips...
Find the fun that fits you Walking sports are just what they sound like – versions of sports like football, cricket, rugby or netball where the players walk instead of run. But every walking sport involves a different kind of exercise, so maybe try a few out to get a feel for what you enjoy. Are you a raring rugby player, nifty netballer or football fan? Whatever you choose, walking sports are great if you want the fun of the game without the strenuous pace and intense contact.

Don't race ahead If you haven't played sport in a while, or if you're completely new to it, you need to build up your physical activity slowly. What is really important, is to always remember to warm up before exercising and cool down afterwards with some gentle stretching.

Get comfortable Don't worry that you're going to have to splash out on a whole new set of sporty clothes – a tracksuit or shorts and trainers will be just fine especially at the start. A few walking sports might suggest a particular type of shoe or piece of clothing. But for the most part all that matters is that the way you're dressed keeps you comfortable, warm, and safe. But if you want a bit more info, why not check out our guide?

Hit the bottle…of water! If you're going to get active, you've got to make sure your body is properly fuelled up. So always carry a refillable bottle of water with you and keep drinking during and after any exercise. Snacks are good too - the NHS recommends eating something like porridge, a banana, a yogurt, or a slice of wholegrain toast about an hour before you start your sport. For a full run-down on the best meals and snacks, and the best times to eat around exercise, see our blog.
Ready to give it a try? Take a look at our walking sports page for some inspiration about the kind of exercise you could try, then check out our activity finder to find opportunities near you in Warwickshire and the surrounding areas (including Coventry, Bromsgrove and Solihull).



Volunteer in sport
Getting involved in sport doesn't just mean getting out there on the pitch or court. After all, a game isn't a game without a ref, there can't be a match without someone finding an opposing team, and a post-match celebration just isn't the same without cake!
So take a look at some of the ways you could join in the fun of sports, even if your health or interests mean you won't be playing…
Coaching
If you have a history in sport coaching, why not offer your services to a local team or club for older players? You might not be playing yourself anymore, but your expertise could be useful to a team that's just starting out or needs guidance.
Administration
Do you have strong organisation skills? You could get in touch with a local team to find out if they need help running their sessions. This could be anything from booking facilities and renting or buying kit, to writing leaflets and emailing timetables to members.
Catering
Playing sport is hungry work! So if you're a brilliant baker, or make a great cup of tea, consider catering for your local sports team or club. Whether its biscuits and tea at halftime, or a spread of sandwiches and cake for after the match, providing food will definitely make you popular with the players!
Travel
Some people might be keen to play sport but can't easily get to their local activity. If you drive, why not offer to help people get to their sport sessions and games? You could even arrange a carpool system, which is good for the planet as well as the people.
Support
Sport just wouldn't be the same without people to cheer the players on. If you enjoy watching sport, or if you know someone who plays in later life, why not head to the sidelines and show your support? It will give the players such a boost and you can reap the social benefits too.
Sporting memories
Sporting memories sessions give people the chance to come together to talk about sport and share their memories of watching or playing. The Sporting Memories Foundation was set up to help older people living with dementia, depression, and loneliness, by sharing memories of sporting moments and helping people to connect with others and with their past. So, if you love talking about sport, visit their website to find out if there's a Sport Memories Club near you.
Hosting
Could you give people a pitch to play on? If you run a local sports centre or playing field, you could offer your facilities to a nearby sports team or club for older people.
If you're keen to get involved then the best place to start is by contacting your local leisure centre or sports club, to see if they've got any volunteering opportunities. You could also ask friends and family, or simply search online – check out official websites like Sport England or the Sport and Recreation Alliance's new Volunteer Opportunity Finder. Our social channels are always open too. Visit our Facebook, Twitter and Instagram pages to ask our community, or start a conversation by asking if anyone knows of clubs in your area.